About Us
Delivering a professional and affordable water tank
cleaning service
Cleaning water tanks on the NSW North Coast and Riverina
Locally owned and operated, Crystal Clear Water Tank Cleaning changed ownership in late 2018. As a small family business, we believe honesty, reliability and friendliness go hand in hand with providing a quality and professional service.
Many enhancements have been made to our service since the change in ownership. This has seen all new and returning customers receiving the best possible outcome when having their water tanks cleaned.
We have undertaken practical training from a reputable and experienced water tank cleaner operating in southern NSW – Leigh's Water Tank Cleaning. By introducing improvements to our equipment and work practices, we can now clean a wider variety of tank types as well as install tank liners. Whether polyethylene, concrete, fibreglass or galvanised steel, both lined and unlined, we can deliver the high quality service customers expect.
Our business has a current Certificate of Public Liability and follows occupational, health and safety procedures. This reduces the risks to not only us but to our customers when undertaking the work.
Unlike mains water, the quality of your tank water is up to you. If the tank is not cleaned at regular intervals, there is an increased risk of contaminants causing severe health problems.
This is where Crystal Clear Water Tank Cleaning can help. Working with both householders, rural property owners and businesses, we remove sediment, sludge and debris from water tanks with minimal water loss. We are more than happy to discuss available options for you to get your water tank clean. This also includes advice on how to minimise or prevent future problems occurring
Delivering a reliable, honest and friendly service at competitive rates, we can quickly get the job done.
John and Alex Williams
Crystal Clear Water Tank Cleaning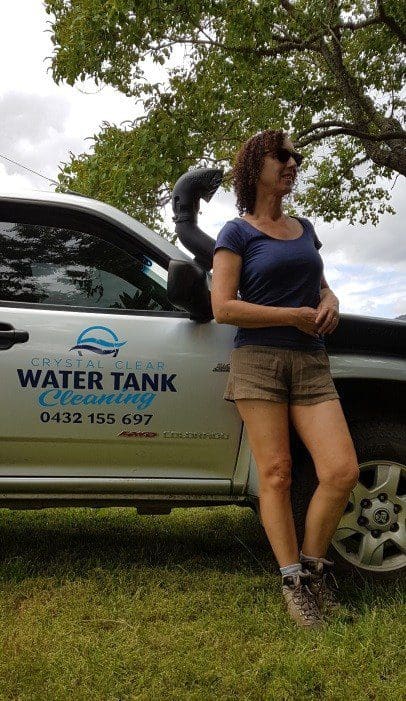 Give us a call or send us an enquiry